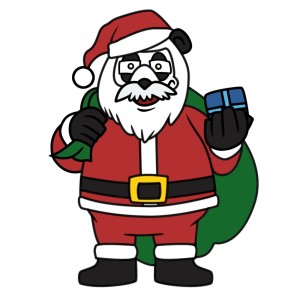 Christmas Time in Panda Land!
We have been really busy in the community the past month getting the Christmas cheer out!
The Railway City Rotary Club, St Thomas Junior B Stars & The Panda organized our annual Bears for Christmas Care Campaign.  In the end we were able to get over 50 bears out to the Toy Mountain which all went to Christmas Care and out of the proceeds we put together over $1150 to buy food and gifts for families that need a little extra help making Christmas special for every kid!
This year Railway City Rotary Club was asked help out the local Salvation Army with their Kettle Campaign.  The Kettle Campaign is the biggest fundraiser for our Salvation Army and we were thrilled to be asked to help out.  We raised a lot of money on the 2 days that we were out in the community at the local grocery store but we didn't come close to the Fire Fighters at the Liquor Store – not too sure why, hmmmm.  All the money raised goes back into our community to support many great projects and causes. It was heart warming to speak with many people about what we are doing in the community and to see the incredible generousity of our community.
The Railway City Rotary Club had their annual Christmas Party where we managed to raise several hundred dollars for the fight against Polio. Great food, Great Friends, Great Kids, even Santa made an appearance with lots of toys and gifts.  Combined with Family Christmas that saw many new faces and one old face (Gammie @ 98 was cruising in the door to celebrate Christmas with the family – Just Awesome!). I wonder what Christmas Day will actually bring …..
Getting ready to head out to Las Vegas / San Diego / Los Angeles next week for some R&R.  Going to go visit our Panda friends at the San Diego Zoo and looking forward to seeing our donation going to work!
Enjoy the Magic of Christmas – Till next month……