SmartPanda announces the new PeopleSoft AA Markup
Available now for Campus Solutions 9.0 and 9.2
New ~ Watch the Demo Video of AA Markups
Do your advisors ever print off the AA degree audit, grab a red pen, and make notes then hand the hard copy to the student?
What if they could make those same personal annotations, but put them online?  That's what the AA Markup tool does!
AA Markup has these Benefits
Make personal notations anywhere on the student's degree audit (Group, Req, Line)

Color code

,

highlight

, or embed hyperlinks in the notations
Store the notations in PS so they are seen in any view of the degree audit (Student Center, Adv Center or Admin)
AA Markup enables you to make every student's degree audit fully accurate and personalized!
How AA Markup Works
To Create a Markup, simply click directly on the degree audit itself (Req Group, Req or Line)
Click and create Markups with minimal keystrokes,

without needing to know Group Numbers or Requirements Numbers

Then the degree audit immediately refreshes and you can see the Markup's appearance real-time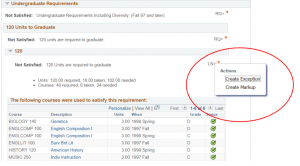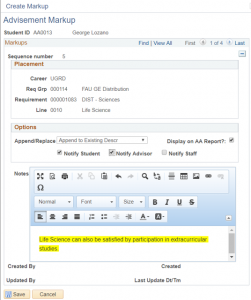 AA Markup personalizes the degree audit as a collaboration and communication tool for student service!
You and your students will benefit
Promote synergies as everyone is seeing the same notations and suggestions made to the student
Faster service and results for your new and transferring students
Contact TheSmartPanda to schedule a free demo
AA Markup is also a Communication Tool
You can make Markups that are only viewed administratively, not shown to the student
You can select a checkbox to send a

Copy of the Markup by Email

to Staff, Student and/or Advisor(s)
This turns the degree audit into a one-click communication hub where advisors, staff and students can make sure everyone is clear about a particular Req Group, Req or Line
Appropriate for institutions at all stages
You have been on PeopleSoft Adivsement for many years but you strive to give each student a personalized degree audit
You are newly deploying PS Advisement and you need to be sure everyone is on the same page
You are new on 9.2 or preparing for a 9.2 Upgrade and want to maximize your staff's time to ensure the highest possible quality and student service
Serves your Institution's core Academic Mission
We know that better communication and a personalized audit for your new applicants and transfer students will only accelerate your core academic mission.  Your students will understand what rules they need to satisfy as fast as possible, and your students' Academic Advising will be as timely and accurate as possible.
License AA Markup and you will automatically inherit SmartPanda support:
We answer your questions about the tool
We advise you in tailoring Markup entry for your institution
You gain access to best practices to optimize your student services!