SmartPanda announces the new PeopleSoft AA One Pager
Available now for Campus Solutions 9.0 and 9.2
The delivered Academic Advisement degree audit report can be very powerful and packed with information — likewise for the delivered degree audit PDF.
However, sometimes these delivered reports have too much information and may even be confusing — or cosmetically not represent your institution.
We've used the delivered BI Publisher tools to create the "AA One Pager" – a condensed and cosmetically simplified view of any student's degree audit.
AA One Pager offers these Benefits
A simplified view so any student or advisor can see "at a glance" what a student needs to complete
Color coded

red

and

green

icons call attention quickly to the student's status.
Uses BI Publisher Word Plug-In so you can easily adapt it even further to suit your needs.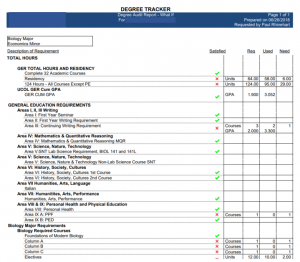 Many Deployment Options
We also realize that you may want options in how you deploy One Pager to your advisors and students.
Yes, because One Pager uses BI Publisher you can upload the template and deploy it in your database within minutes — then use Microsoft Word to tweak it for your institution.
However, we offer additional deployment options:
We deliver peoplecode so that you can add One Pager as a second button, not replacing the PDF you already have.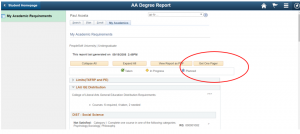 Plus, we also deliver the code so that you may optionally add a direct one-click link to the One Pager from the Student Center or Advisor Center!

AA One Pager delivers each student and advisor a version of the degree audit that they can quickly understand and use!
Contact TheSmartPanda to schedule a free demo
Serves your Institution's core Academic Mission
We know that better communication and an understandable audit for your new applicants and continuing students will only accelerate your core academic mission.  Your students will understand what rules they need to satisfy as fast as possible, and your students' Academic Advising will be as timely and accurate as possible.
License AA One Pager and you will automatically inherit SmartPanda support:
We answer your questions about the tool
We advise you in tailoring One Pager for your institution
You gain access to best practices to optimize your student services!