Sit back and relax. Remove the worry by letting The Smart Panda run your systems smoothly and reliably. Call us today to get started.
When you choose us as your Enterprise Resource Planning (ERP) Solutions Provider you'll get…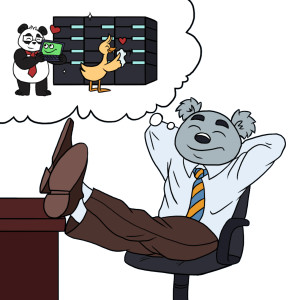 • An honest assessment of your current system
• A written report outlining realistic solutions to meet your needs
• An ongoing maintenance and support proposal to keep your system running smoothly and efficiently
• And complete and total peace of mind knowing your ERP support team is always just a phone call away
Also, you can feel good about hiring us. We pride ourselves for being a positive influence on our community. Here are just some of the community events and organizations we're involved with this year:
• Proud supporter of Big Brothers/Big Sisters
• Member of the St Thomas Railway City Rotary Club (Wade is the Past-Treasurer & Vice President)
• Last year we raised $60,000 for MS on the MS Bike Tour.
• Were part of the Inspire Change Team rappelling down the side of a building to raise over $40,000 for Easter Seals
• Pledged $5,000 to the San Diego Zoo for the conservation and preservation of Panda Bears
• Through Rotary International we help to provide clean drinking water and much needed medicine around the world
• Last Christmas we sold Teddy Bears to raise money for families who couldn't afford Christmas dinner and gifts for their families
And we have some of the happiest clients in the business…
Through the years many upgrades have come and gone, some with success some with failure and some with both. Those experiences have proven to have one important common element, having experienced professionals that understand the value and impact an upgrade can have will greatly improve the odds of success for your organization. Whereas, an organization that upgrades without that experience and understanding, greatly reduces the level of success they will see. The Smart Panda is one of those professionals that has been through the upgrade process numerous times with great success and they have the experience to get the results your organization deserves. For installations, upgrades, and hosting, The Smart Panda is our go to partner! ~ Belinda J Pacheco, Precision Solutions LLC.