Is Your ERP System Getting the Proper Nutrition?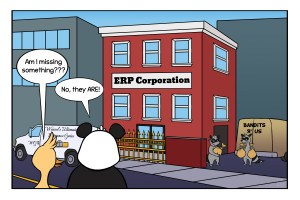 Is your business secure? Even if your ERP System appears to be running smoothly, there could be potentially serious issues just under the surface. Failure to identify and remedy these issues could result in poor response times, data integrity issues, or even serious system failures.
By fully reviewing and documenting your ERP System you'll have a "full picture" of the system's performance, process flows, possible security risks, and areas of maintenance that require immediate attention.
No review would be complete without a plan, which is why The Bamboo Test is designed to review your system and identify where your ERP System is at and where it needs to go.
The Smart Panda Bamboo Test
The Smart Panda's consulting team has the business and technical experience necessary to effectively assess your corporate architecture, infrastructure, and technical systems. After completing an assessment of your system, the team can recommend a complete business and technology solution to eliminate inefficiencies, increase revenues, and enhance security and productivity for your entire organization.
The Bamboo Test focuses on 5 KPI – key performance indicators:
System Architecture focused on capacity,
scalability, and reliability
Business Process Technical Flow
review and documentation
Infrastructure and Application Security
Risks and Vulnerabilities
Data Integrity
Disaster Recovery
While you might be confident that your Enterprise System is running smoothly, by completing The Bamboo Test against your system you can identify unforeseen inefficiencies and potential problems to ensure that your system will be fully capable of handling your Company's requirements today and into the future.
Contact us today to schedule The Bamboo Test for your system, or to discuss any other concerns regarding your ERP solution.