Available now for PeopleSoft Campus Solutions 9.0 and 9.2
Are you live on PeopleSoft Academic Advisement, but your staff and advisors spend a lot of time troubleshooting or researching specific advisement questions or problems?  The new AA Glass is here to help you!
We know that PeopleSoft Academic Advisement is very flexible and robust — however it can also be
Confusing – because AA is so intertwined, you may start troubleshooting a Requirement issue but find out the real problem is a Wildcard Course List, etc.
Complicated – keeping track of which requirements are being applied to which populations of students can become like a ball of string
Mysterious – the degree audit provides little in the way of logs or traces so you can really understand why a particular student got a particular AA result
AA Glass exposes the inner workings of the Advisement Report so you can finally have transparency into which specific requirements are impacting each particular student.
AA Glass is a pure Bolt On application – it touches no delivered code.
Contact TheSmartPanda to schedule a free demo
Delivered Advisement Reports are too Mysterious
The delivered AA Degree Audit is powerful and your Advising staff may have it functioning at a very high level of accuracy!  This is fantastic because there is nothing like a detailed and accurate Degree Audit to drive student success!
But Advising staff know that many times there are questions or problems about a Degree Audit that need to be researched, and troubleshooting the delivered AA report can be difficult!
Which Requirements got Applied to this student?
The delivered Degree Audit can be a beautiful report with hyperlinks and collapsible regions – however it doesn't easily tell you which Requirement Groups and Requirements actually got applied to the student.  Many institutions therefore go to the cumbersome solution of hard-coding the Req Group # or Requirement # into the Description!
With AA Glass you get a Degree Audit version that tells you exactly which Req Groups and Requirements got applied!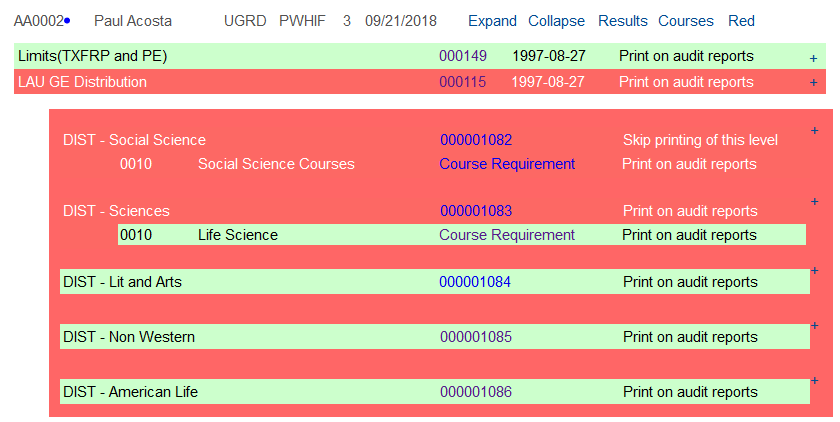 Glass is color-coded so Satisfied (Green) requirements are immediately visible!
Are there Hidden Requirements?
A student's Degree Audit can be dramatically changed by Requirements that are set to Not Print on the Degree Audit.  The delivered Audit is like a magician's box, where data goes in and the audit comes out — but no one sees what happened in between!
With AA Glass you will see everything that got applied to the student, whether hidden or not!
Investigating a Requirement issue can be tedious because once you have identified the issue, you often need to launch new windows and copy/paste Requirement numbers to get to the heart of the issue.
With AA Glass you get drillable links so that Req Groups and Requirements launch with one click!
If you install AA Glass in your Campus Solutions environment, you and your students will benefit
Thousands of reduced hours of tedious research for your staff
Faster service and results for your students
Contact TheSmartPanda to schedule a free demo
AA Glass gains its power from 3 Unique Features
Glass Grid
The first tab of AA Glass gives you a detailed grid showing the inner workings of any Degree Audit report.  The grid tells you exactly which Requirement Group #'s and Requirement #'s got applied, it shows you the Effective Date of each, the Sequence in which they were applied, the Print Status and many other helpful details!
2. Embedded analytics
From AA Glass you can click through to embedded analytics including search/sort/grouping so you can see exactly what the Degree Audit outcomes are and all Courses Used!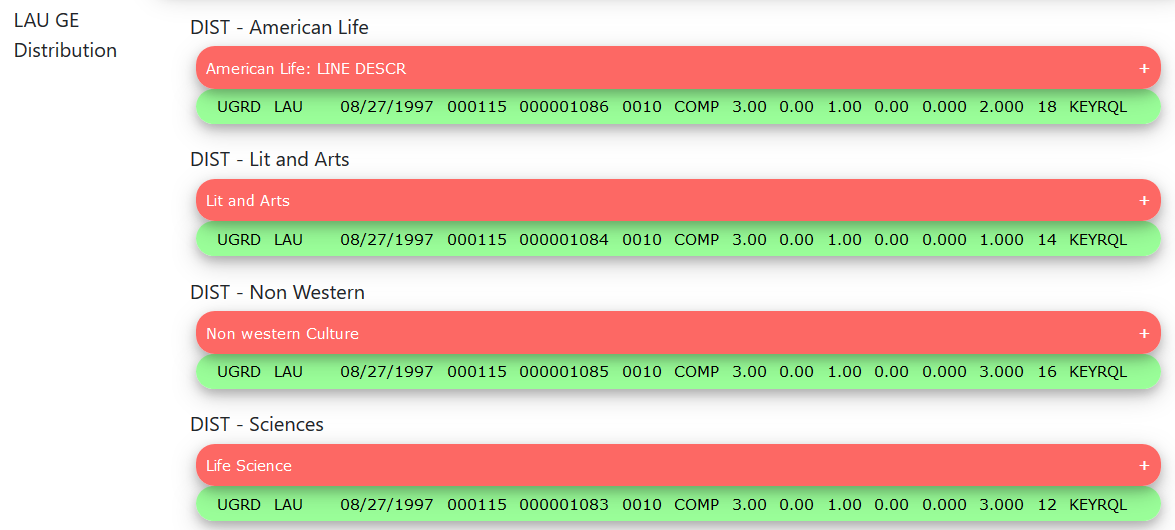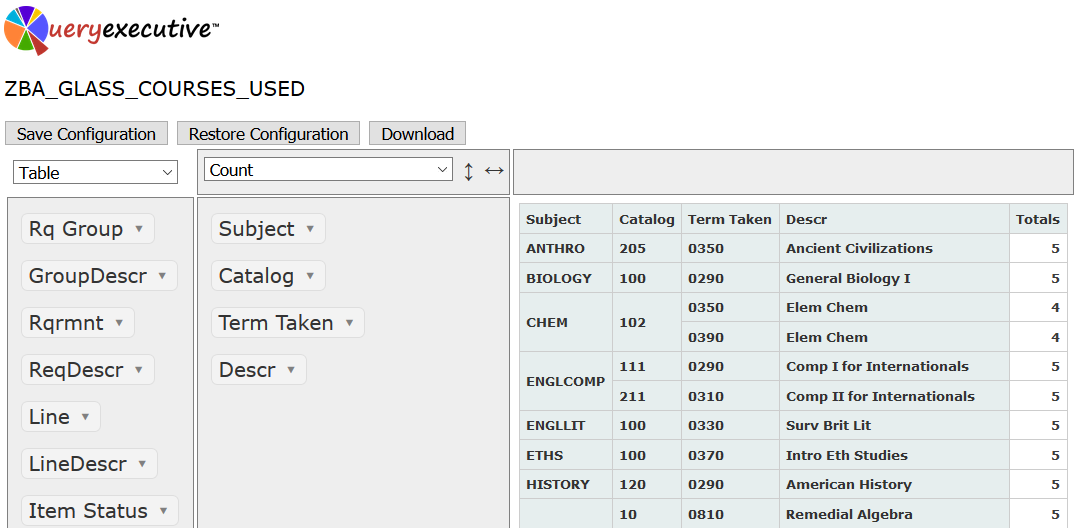 3. Works with all AA Report Types
We recognize that institutions have a variety of AA Report Types – What-If, Planner, Undergraduate Advising, etc.  AA Glass works with any report type, giving you transparency into its results.
Contact TheSmartPanda to schedule a free Demo
AA Glass is appropriate for institutions at all stages
You have been on PeopleSoft for many years but you still labor with complex AA Rules
You are a new CS campus and you haven't had time or money yet to build out an advanced AA operation
You are new on 9.2 or preparing for a 9.2 Upgrade and want to maximize your staff's time to ensure the highest possible quality and student service
AA Glass serves your Institution's core Academic Mission
We know that faster AA results and greater accuracy for your new and continuing students will only accelerate your core academic mission.  Your Advising staff time will be maximized, and in turn your students' Academic Advising will be as timely and accurate as possible.
License AA Glass under an annual contract and you will automatically inherit SmartPanda support:
We answer your questions about the tool
We advise you in tailoring AA Glass for your institution
You gain access to best practices to optimize your student services!