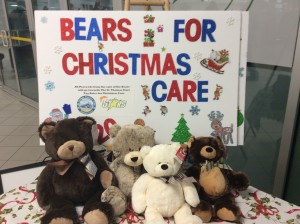 November has been an amazing month for the Panda. Not only did we have a fantastic month of weather which allowed for some excellent outdoor running (40+km), but we got the chance to help out the community without freezing!
Early in the month The St Thomas Railway City Rotary Club assisted the Local Legion 41 with their Remembrance Day Poppy Campaign.  Hundreds of people stopped by our location and generously donated some money and received their poppy.  All the funds raised during the Poppy Campaign goes back into our community to support various Veteran programs at our local hospitals and within the community.
The Panda got to lead the 2nd Annual Bears for Christmas Care campaign put on by The St Thomas Railway City Rotary Club.  The campaign supports the local charity program Christmas Care which provides over 1600 hampers to the community during Christmas to provide a truly Merry Christmas for all the families in the community that need a little help. We run this program in association with the St Thomas Junior B Stars Hockey Team, who collect food and toy donations every year in support of the Christmas Care Campaign.  We are extremely proud to say that we reached our goal of 100 Bears sold, and currently are sitting at 111 sold with 50 Bears being donated directly back to the Stars Toy Mountain.  The final numbers are just being tallied but the bear proceeds appear to be in excess of $1140.00 which will be going to Christmas Care this year.  The Bears are very excited to get to their new homes to put smiles on kids faces this holiday season!
So now we are gearing up to work with Christmas Care to help package up food and gifts into the over 1600+ hampers that will be going out to the community.  It is a great community project that brings out the good in everyone and puts smiles on many faces.  We also have partnered up with Salvation Army to ring the bell at the Kettle Campaign this holiday season.  I personally have never taken the opportunity to ring the bell before, but I am excited to get out help them raise funds for many local programs and projects.  Lastly, our local Inn Out of The Cold program is now in full swing and our Rotary club has been out cooking up a storm.  I will personally be doing the dishes a couple of times this month, and looking forward to seeing people enjoying good food and being safe and warm.
Till next month……